Golf coaching is all about you and what you want to get out of your game. We pride ourselves on being good listeners and aim to provide the best possible professional advice, whilst ensuring each lesson is tailored and enjoyable for the golfer.
Why Coaching?
We're passionate about helping you play better golf.
Every golfer enjoys the game more when they're hitting good shots and playing well. This is our mission for you.
Think back to your last few rounds and try to pinpoint an area that cost you shots…
Maybe, you had too many three-putts as a result of poor distance control? Or did you miss too many fairways to the right meaning you had to chip out sideways? It could be that you play well in practice rounds with your friends but struggle to replicate that in competitions?
Through our experiences in the game and our PGA education, we appreciate that every golfer is different. That's why we offer a range of lessons and packages to suit everyone.
Lessons will cover:
Golf Fundamentals
Swing Basics
Short Game
Long Game
Course Management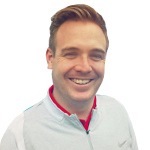 Stuart Barrett - PGA Head Professional
I kicked off my golf training by completing a National Diploma in Golf at Duchy College, Cornwall after leaving Kingsbridge Community College. I then followed this through my Professional Golf Degree which I completed in 2009 making me a fully qualified Professional. During my time as an assistant professional, I have played in numerous competitions all over the South West Region. I still hold the Dartmouth Championship Course's record off the white tees with 65 (7 under par) since 2006.I enjoy teaching and developing my pupil's golf swings just as much as playing, whether it's a person who has never held a club, or an established golfer, I strive to help each individual rach their goals.
---
Very professional and friendly service. Having used several golf professional over the years, i found Stuart at the top of the list in terms of unbiased knowledge, friendliness and service. I have used Stuart for both golf lessons and golf equipment and he has helped me greatly with my game and my motivation to get out and play / achieve results. Highly recommened
Stewart Ewens - Club Member
Stuart always has a great range of stock at good prices. Extremely knowledgeable and always friendly and helpful. I will be challenging his excellent teaching skills with some lessons to sort out my dodgy swing very shortly.....
Derrick Lassman - Club Member
Great service from a top pro! Stu stocks most things and if he doesn't he can get it! for a very competitive price. Always ready to help ??
Lee Bowden - Club Member
Superb service, I bought my first ever custom fit irons from his pro shop, the service given from the Fitting to delivery was first class. Very competitive with pricing and if they don't stock it he will always get it in and price match where possible ?? Say goodbye to American golf and shop local.
Chris March - Club Member
Great service and first class club repairs. Will use again
Andy Norman - Club Member
I have had a few lessons with Stuart now and I have to say he is a great teacher. Stu easily identified where improvement in my game was needed and explained these really clearly with the help of the video analysis. I have also had a custom fitting with him and am very happy with the clubs that we decided to go for. He price matched all the other retailers.
Dan Rogers - Club Member